November 2003
Customised Dome Camera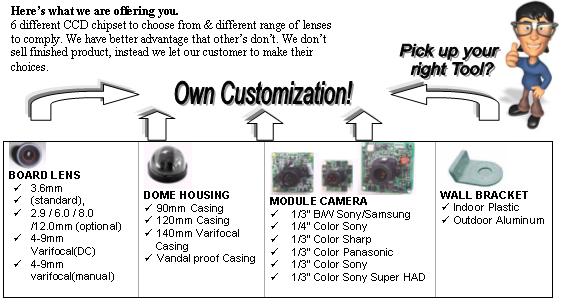 Camware

offers well recommended chipset, which already has its status in the CCTV market.
We provide chipset such as Sony,Sony HR, Samsung and Panasonic.

Another important part for every camera is its lens. The standard lens size provided for any dome camera is 3.6mm, which provides a range 92o of viewing angle with a 3.5m Distance Range. Since we assemble our own dome cameras, therefore we allow our customers to choose from 2.9mm lens (wider viewing angle, shorter distance) till 12mm lens (narrow angle but longer distance).

Lastly all electronic mechanism needs a casing. We provide housing which diameter is 90mm, 120mm, 140mm Varifocal Dome. Another selective housing is a Vandal proof casing, which is specially designed to resist vandalism. The Varifocal Dome will be provided with 4-8mm Manual/ Auto Iris Varifocal Lens (DC).

Customers may also choose to mount their dome cameras in an Indoor Plastic or Outdoor Aluminum Wall Bracket. These bracket are specially designed for 120mm and 140mm Dome Housing.